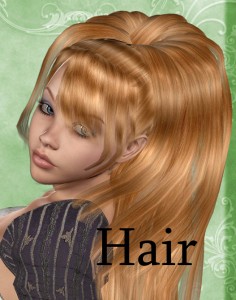 Poser's Hair Room is used to drape and animate hair – long as well as short – in the most natural way. This however brings parts of the worlds of hairdressing and of some basic fibre simulation physics to the table of the 3D artist, not the smoothest combination of environments. Time for some support.
At the moment I can offer you:
Articles
Creating Hair in Poser (by Paula Sanders).
This presents an annotated PDF version of the series on Paula's website, where she presents the fundamentals of growing and dressing medium to long female (head-) hair. No wind or other dynamics.
Series
Each reference below links to the first post in the series. From there you can easily select any individual post (footer, right).
Case Study: Hairy Stuff
These articles present the basics of Hair Room: how to grow short hair on anything. Fur on coats, beards on faces and short hair on heads, shaving patterns included. These articles serve as a Hair Room for Beginners tutorial.
Poser Dynamics I
Introduction to the following vast amount of articles on Poser Dynamics: Hair and Cloth Room. Overview of the Case Studies, and checklists for the hair and cloth developer as well as user.
Poser Dynamics II
Quick Tours through Cloth Room and Hair Room, and Quick Recepies to solve the most common issues.