The articles in this section discuss properties for Scene Atmosphere, Scene/render Background and Lights Coloring. These are not objects with a surface, but do have properties which are handled in Material Room. These properties can be accessed via the Object selector.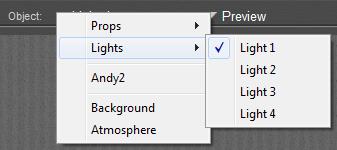 Most of those topics are considered Intermediate level, although various configurations can be setup via Material Room menus, and can be managed through the Simple interface. On the other hand, managing the details of a scene Atmosphere requires the use of nodes from the 3D Texture group, which by itself is considered Advanced.
This section concludes with some varied, advanced topics like mapping for IBL , Gamma Correction (GC) and GC on Transparency. The Appendix lists all Material Room nodes and relevant Render Settings, and their availability in the various Poser versions.