Although various configurations can be setup via Material Room menus, and can be managed through the Simple interface, this topic is considered Intermediate level.
Intermediate
First I set a Background Picture, either via the menu File > Import > Background Picture:

or via the Material Room directly, connecting the BG picture node with the background node: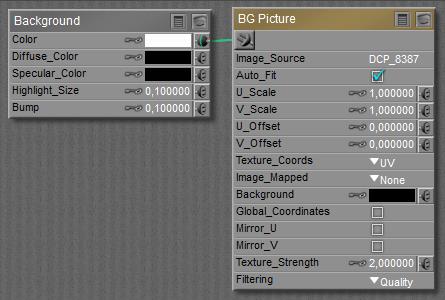 The BG Picture node is completely compatible to the regular image_map node.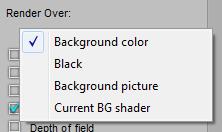 Then I switch off the use of the picture in the render, via Render Settings:
That is: do NOT use Background Picture nor Current BG shader.
In Material Room the associated BG Color and Black nodes can be dressed up with any node-tree. So I even can connect a different image to them, and have a picture in my render different from the preview. See the overview on background nodes in general.
When I'm still having problems with the Background, I just check:
Whether the GROUND object (or any other object) is obstructing the view
Whether I'm trying to load an 16-bit-per-color image (don't)