Although various configurations can be setup via Material Room menus, and can be managed through the Simple interface, this topic is considered Intermediate level.
Intermediate
First I set a Background Movie, either via the menu File > Import > Background Footage:


or via the Material Room directly, connecting the BG Movie node with the background node: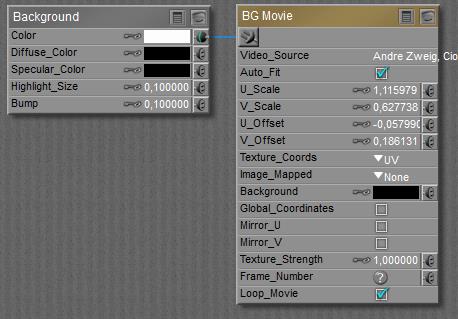 The BG Movie node is completely compatible to the regular movie node. Note that I first have to connect BG Movie to the Background node, and then I select the video. When any video is already selected before the connection is made, then that selection will get lost and has to be re-established again. This also is the case when BG Movie is setup properly, gets disconnected for any reason, and is re-connected again.
Then I switch ON the use of the movie in the render, via Render Settings:
That is: do use Background Picture or Current BG shader. See the overview on background nodes in general.