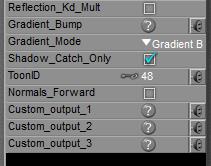 Each PoserSurface has a ToonID value assigned, and one can even make it varying over time (animated) as well as driven by a node construction, like a complex of math_functions and variables like the frame_number.
Various surfaces can get the same ID, when that helps me out. An instance of the render result, not showing colors and shades but showing ToonID's instead, can be derived as follows:
In Render Settings, check the appropriate options in Auxiliary render data

After rendering, export the image as a Photoshop PSD file. This file will present an "ID" Layer in which each Toon ID has a color of its own. This way the surface-areas can be selected easily for further modification in Photoshop (or alike).

Poser Aux render data and PSD layered export is available in Poser Pro only.